The Promised Neverland Chapter 125: Final war of humans and demons
From the second page begins the main story, which sees Norman reunite with a group of unknown demons.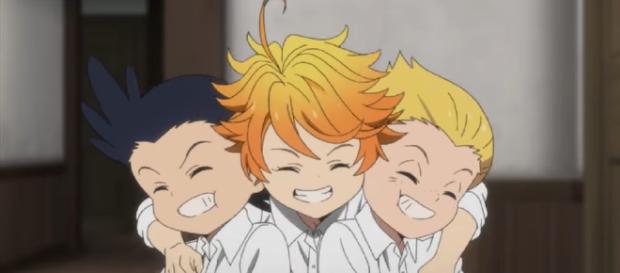 "The Promised Neverland" will return with Chapter 125. To celebrate the arrival of volume 13 of "The Promised Neverland," the magazine decided to open the new chapter 125 with a colour page. It shows Emma with a flock of owls around, while Ray smiles in the distance.
The next chapter of "The Promised Neverland" will arrive on 11th March 2019 on Weekly Shonen Jump and Manga Plus.
In the tweet below, one can notice the blue eye of the medallion that Emma wears around her neck, donated to her by the demon Mujika many chapters ago.
Synopsis
New Promised Neverland color page pic.twitter.com/zzh1JcEI7Y

— 💥The Promised Neverland💥 (@TPNManga) February 28, 2019
From the second page, the main story begins that sees Norman reunite with a group of unknown demons. The spoilers show the boy talking to some of the demons, with the mysterious Zazie behind him as a bodyguard. Meanwhile, it looks like the head of the demons arrives with a mask that makes the eyes stand out in a particular way. The new William Minerva discusses the arrangement with the demon while sitting at a table until the boy draws a scroll.
The human and the demon are shaking hands to start an alliance. The chapter will start the final war between humans and demons. It will be interesting to see who will win this battle.
Previous chapters
The last chapters of the anime have shown unexpected events for the protagonists. Fans have witnessed the return of Norman in the role of William Minerva. Previously, the series saw Emma rethink of what to do. The colour page prepared by Demizu Posuka for the last chapter of "The Promised Neverland" shows Emma in the background, while behind her Norman and Ray are faded.
Also, Norman decides to show the boys of Grace Field and Grand Valley the whole shelter and everything they have. Emma wants to find a peaceful solution which is good for everyone, after seeing that even the demons have a quiet life.
Emma is not convinced to carry on the plan of Norman. After observing how the tribes behave in the villages, Emma has understood that they too have the right to live in peace. However, Ray supports Emma's doubts. Meanwhile, Sonju and Mujika with the two demons who never ate meat stay together in the forests.
According to Otaku Nation, they can survive without eating Human flesh and that they have very high intelligence. They can live with Demons if they are like this.
The two then decide to go to Norman's office to talk to him. The group of three people act amicably and try to make the two feel comfortable while they wait for their friend to return. "The Promised Neverland" is written by Kaiu Shirai and designed by Posuka Demizu.
This news article has been verified through:
https://www.crunchyroll.com/anime-news/2019/02/26-1/emma-of-the-promised-neverland-is-now-a-nendoroid
https://www.otakunation.org/post/the-promised-neverland-124-spoilers-and-release-date-yakusoku-no-neverland-chapter-124
Click to read more
and watch the video
or