Sword Art Online: Alicization Episode 21: New arc will begin as Eugeo battles Quinella
In the previous episode, fans have seen that Alice got an injury in her right eye.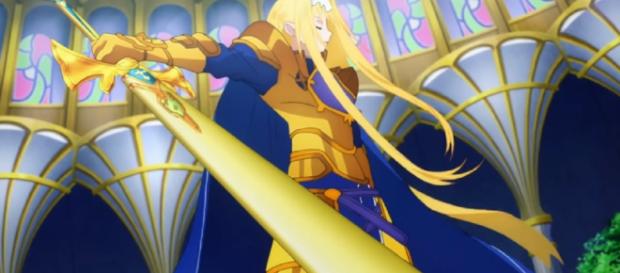 "Sword Art Online: Alicization" Episode 21 will release on 9th of March 2019. The previous episode of the anime came on 2nd March 2019. Meanwhile, a few weeks after the production break, the anime was preparing to show fans one of the most anticipated and interesting fights of the current narrative arc.
Two characters with an almost identical fighting style will finally compete with each other. Fans will witness Eugeo going one-on-one with Quinella in the upcoming chapter. The episode is titled "The thirty-second knight." Notably, in the next few episodes, a new arc will begin.
Episode 21
"Sword Art Online: Alicization" Episode 21 will see the protagonist Kirito grapples with his friend Eugeo. The later became a foe after the brainwashing by the treacherous Quinella. The most recent spoilers confirm that Kirito will be the one to deal with the boy, who in the past has taught Aincrad's fighting style.
According to EconoTimes, Eugeo will likely get the chance to be with the Administrator alone and this is going to be his opportunity to stab her with the Cardinal's dagger.
However, the battle won't be easy for Eugeo as her opponent has the ability to shield her entire body from any metal objects at all times with a Sacred Art.
Previously fans have seen that Alice got an injury in her right eye. She has used a black bandage to cover her own wound. In the company of the ally Kirito, the girl will then reach the 90th floor of the tower, discovering a petrified Bercouli and the Blue Rose Sword that belonged to Eugeo.
Alice cries for the miserable state of her teacher.
Meanwhile, when Bercouli regains consciousness and tells the two boys where to find Eugeo, Kirito picks up the Blue Rose Sword and goes on the trail of Chudelkin, where he was heading.
Two versions of Alice
Through one of its many magazines, the Japanese publisher Kadokawa Shoten has recently dedicated fairly extensive coverage to the animated adaptation of "Sword Art Online: Alicization," which in recent weeks seems to be closer to the grand finale of its first narrative arc.
The pages of the magazine showed a series of images, which features the swordsman Kirito and the two boys whom he met in the virtual world.
These images allow fans to retrace the troubled life of Alice, who as a child appeared very tender and caring. Imprisoned by the Assiomatic Church for breaking a taboo, the girl was deprived of her memories by the wicked Quinella.
Sword Art Online: Alicization scans (G's April) https://t.co/jyz6FLFqLi pic.twitter.com/0fiFYz8IKX

— moetron | pKjd (@pkjd818) February 27, 2019
Based on the novels written by Reki Kawahara, the anime of "Sword Art Online: Alicization" comes with a new episode every weekend.
This news article has been verified through:
https://www.econotimes.com/Sword-Art-Online-Alicization-Episode-21-Air-Date-Spoilers-Eugeo-Makes-First-Attempt-to-Kill-Administrator-Will-He-Succeed-1507332
https://www.animenewsnetwork.com/review/sword-art-online-alicization/episode-20/.144113
Click to read more
and watch the video
or