One Piece Chapter 936 Synopsis: Luffy remains in the prison
In the next chapter, fans might see Kawamatsu and Hyougoro getting out of the Prison.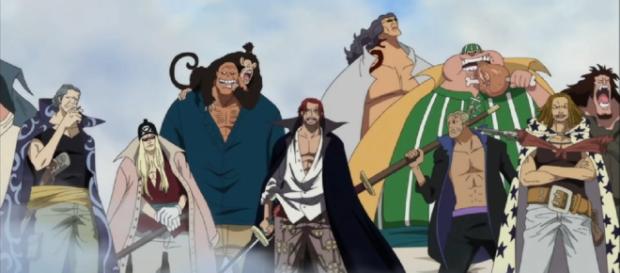 "One Piece" Chapter 935 was full of action. This chapter was released on 10th March 2019. In the first pages, there is a new character, Solitaire, Vice-Warden of the Mine Prison of Udon, complaining to his subordinates for letting them steal Kairouseki's keys. Meanwhile, all eyes are now set on Chapter 936 of the anime.
Chapter 936
"One Piece" Chapter 936 will release on 18th March 2019. The upcoming chapter will show Sanji running after women's bath while looking for Nami and Robin, reports Devdiscourse.
This chapter is also expected to tell a lot about what happened in prison. Luffy will again be in the spotlight in this part of the anime. According to EconoTimes, with the story flow going the way it is, it is unlikely for Luffy to be rescued or break out of prison in Episode 936. Meanwhile, Raizo will have to stop Luffy from getting executed, but first, he'll free Kawamatsu, reports Otakukart. It means fans might see Kawamatsu and Hyougoro getting out of the Prison.
The previous chapter was quite interesting because here we get to know Queen further.
The chapter was opened directly in the Udon prison. We are taken to the executive tower where the key to Luffy's sea stone handcuffs is stored. And Raizo managed to steal the key by exploiting the ridiculous weakness of his guards. Raizo proved that he was a great ninja who managed to steal the key without getting caught.
The story then takes us to Luffy who lunges at the guards. These were the same guards who tortured Hyou's grandfather in Chapter 934. "One Piece" Chapter 935 then re-introduced the new Headliner.
He was named Old Maid and head of the Udon prison. Old Maid mentioned that Luffy was still affected by the sea stone handcuffs. But because the handcuffs are not as strong as usual, he is able to fight a Headliner.
Bounty on Queen
In the next moment, Queen appears, who has a reward of 1.32 billion berries. This is the second biggest reward in "One Piece" after Luffy. The All-Star asks about what happened in the Mine and is surprised when they tell him that Kid escaped. Fans also witnessed Usopp, Law, and Franky talking to the character who was with Zoro, who tells them that the swordsman escaped looking for his swords.
Then we go to the capital of La Flor, where Nami, Robin and Shinobu are in the thermal baths. In the end, fans have seen that the hidden prisoner speaks to Raizo, who revealed his identity as Kawamatsu. This is how Chapter 935 ends, and without a doubt, this chapter leaves fans eager to know more. The answers will be given in "One Piece" Chapter 936, which show fans what will be the future of certain characters.
This news article has been verified through:
https://www.econotimes.com/One-Piece-Chapter-936-Release-Date-Spoilers-Fans-Give-Up-Predicting-Queen-Fights-Luffy-Fairly-1509962
https://news.otakukart.com/360311/one-piece-chapter-936-raw-scan-prediction-and-updates-queen-the-plague-vs-luffy/
Click to read more
and watch the video
or