One Piece Chapter 936 Spoilers: Queen's decide what to do with Luffy and Grandpa Hyo
In the next episode, fans could see Luffy being placed in front of Queen with Grandpa Hyo.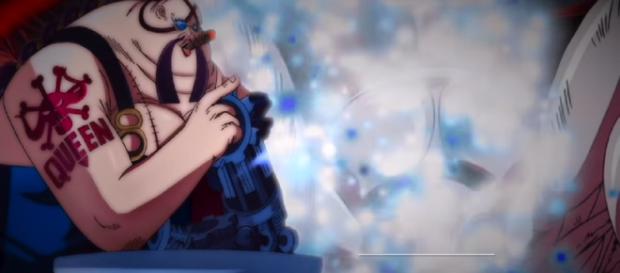 "One Piece" Chapter 936 will release on 18th March 2019. The chapter is expected to decide the fate of Luffy. Meanwhile, after a short break, the Japanese Weekly Shonen Jump magazine published by Shueisha has finally released Chapter 935 on 9th March 2019. The chapter opened in Udon's Prisoners Mine, where the guards were shocked by a disturbance. The ninja Raizo of Nebbia has stolen the key to open the handcuffs of marine agalmatolite. The warrior has gone into the prison in order to free Monkey D.
Luffy, who was forced into forced labour after the defeat against Kaido.
Highlights
Meanwhile, Luffy himself dared to rebel against the guards, created chaos throughout the prison and defeated gruesome Daifugo. On the other side of the prison, the huge and bizarre Queen was informed about the recent escape of Eustass "Captain" Kid. She was also briefed about the theft of the key and the commotion caused by Luffy. Later, the officer of Kaido has sentenced the rebel rubber boy to the death penalty.
Waiting for the right moment to intervene, Raizo has finally discovered a lot of things about Kawamatsu, a faithful servant of Lord Oden who immediately asked the ninja about the fate of little Momonosuke.
Episode 936 of 'One Piece'
In "One Piece" Chapter 936 fans could see Luffy being placed in front of Queen with Grandpa Hyo. It is possible that Queen or Headliners will take the key before Luffy can reach it. However, Raizo was already right in front of the Kawamatsu cell. If indeed, Raizo's handcuffs are universal, he can free Kawamatsu.
Kawa may have been in jail for a long time, but he could still knock out a Headliner just by using fish bones. Kawamatsu can certainly make enough mess to make a distraction so Raizo can free Luffy. After that, Luffy's duel against Queen can take place. Queen has made her mind kill Luffy and Grandpa Hyo. The future of both the characters now lies in the hands of Big Mom and Raizo.
On the other hand, Sanji with his stealth suit's ability was excited to peek at the women's bath. In Wano arc, Eiichiro Oda seems to be efficient in telling stories.
Every event often has a big impact on the plot. In the upcoming episode, Sanji might reveal something accidentally. Will he know that Komurasaki is still alive? Fans will get the answer very soon. Overall, the upcoming chapter will be full of action as the future of many prominent characters will be decided. The raw scans of the chapter will arrive on 15th March 2019.
This news article has been verified through:
https://news.otakukart.com/030308/one-piece-936-release-date-and-spoilers-raizo-frees-luffy/
https://www.gamenguides.com/articles/one-piece-chapter-935-spoilers-raw-scans-and-release-date-55161/
Click to read more
and watch the video
or