One Piece Chapter 936 Raw Scans, Spoiler: Luffy vs Kaido's battle hinted in future
Luffy and the others were forced to wear explosive collars in Chapter 936.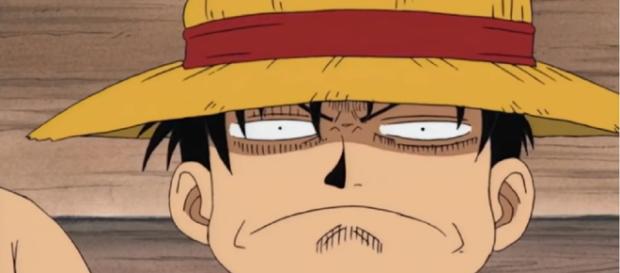 Every Thursday the raw scans of "One Piece" appears on the Internet. "One Piece" Chapter 936 is one of the most anticipated chapters of the anime for many reasons. Fans were desperate to see how Luffy's fate will end-up against Queen. Meanwhile, the Eiichiro Oda's anime series is continuing its long run with the Wanokuni arc, which will probably end with the battle between Luffy and Kaido. Meanwhile, let's see what we have in chapter 936. The anime's raw scans are leaked by SP Manga.
Raw scans of 'One Piece' Chapter 936
"One Piece" Chapter 936 is titled "Grand Sumo Inferno." On the cover page, the ex-Admiral Aokiji was shown, the character appeared during the saga of Water Seven and member of CP7.
Meanwhile, the raw scans suggest that Raizo went to look for the key that would allow the release of his old comrade Kawamatsu. Recall, in the previous chapter, Kawamatsu turned out to be one of the red scabbard samurai. Luffy and the others were forced to wear explosive collars. As the chapter proceeds, Luffy and other prisoners brought to Grand Sumo Inferno, where two individuals fight each other to survive. But if Luffy agrees to join the pirates of Kaido of the Hundred Beasts then he will be forgiven and will not have to attend the meetings.
Since the opponents of Luffy and his group are armed to the teeth, the prisoners are allowed to remove the agalmatolite handcuffs. The protagonist immediately takes care of all the challenges and asks to fight with the next group of enemies. Meanwhile, near the public bathroom where Nami, Nico Robin and Shimizu are located, comes X Drake. He gets into the place and finds Nami naked. On the other hand, Sanji, disguised as Soba Mask was discovered because of his bleeding nose. Drake, along with Hawkins, saw Sanji and immediately recognized that it was a Raid Suit from the Germa 66, reports GameNGuides. According to Sanji, Bepo and others, they were captured to get Law's attention.
Story continues
Zoro is in the Ringo region and fighting against some samurai's who are interested in his Shusui sword. On the other hand, the member of the straw hat pirates has decided to defeat their opponents to take their weapons, in view of the war that awaits them.
Here is the first look of the upcoming chapter of the anime.
#spoiler::Ch936::One Piece
Are coming soon

So, any news
Below this Tweet..
.
.
.
.#OnePiece#one_piece#onepiece936#manga pic.twitter.com/UHHq7uVLHG

— SP Manga (@SPManga1) March 13, 2019
The next chapter of the anime, "One Piece" Chapter 937 will arrive on 25th March 2019 in Weekly Shonen Jump magazine.
The raw scans of the upcoming chapter are expected to arrive on 22nd March 2019.
This news article has been verified through:
https://www.gamenguides.com/articles/one-piece-chapter-936-spoilers-raw-scans-and-release-date-55223/
https://www.devdiscourse.com/article/entertainment/443798-one-piece-chapter-936-spoilers-kawamatsu-wont-escort-raizo-in-helping-luffy-to-escape
Click to read more
and watch the video
or