My Hero Academia Chapter 219 Spoilers: New arc will feature Todoroki & Bakugo's fight
By looking at the new villain, one can say that its design is inspired by the Joker.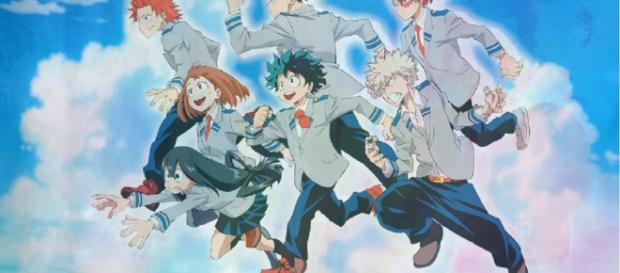 The new arc of "My Hero Academia" looks very interesting since it will address a new aspect of the universe of Kohei Horikoshi and propose a clash between two groups of villains. Chapter 218 of "My Hero Academia was released on 25th February 2019. On the other hand, Chapter 219 will release on 10th March 2019.
New villain
In this chapter, fans discover the great villain named Destro. It is important to note that Destro is the founder of the original Meta Liberation Army. Destro will reveal more about himself in the upcoming episodes.
As a reminder, in this universe, only heroes are allowed to do so to defend their co-citizens and must have a license. Therefore it is interesting to see a group that is not bad intentions and fighting for another ideology.
By looking at the new villain, one can say that its design is inspired by the Joker. Meanwhile, the previous episode was opened casually, where the hero students relax while some of them complete the exam. Fans have witnessed a new organization called the Quirk Liberation Army. It is an extremist group which is supporting the free usage of quirks once again without any regulations.
Meanwhile, starting with the Detnerat Company ad, there seems to be a new threat targeting the League of Villains and maybe even the heroes too. Fans have seen ads from Detnerat's company. Initially, CEO of Detnerat was seen as a friendly man who did not mind being ridiculed secretly by his men, Miyashita. Later, Miyashita stepped on the topic of "mine." Fans had then witnessed a shocking incident in Chapter 218 when Detnerat's CEO killed Miyashita.
Chapter 219 of 'My Hero Academia'
According to Otakukart, in "My Hero Academia" Chapter 219, fans will likely see a bit more history about Destro's children.
As mentioned in the previous chapter, Destro does have children, and the leader of the Detnerat Company looks like he is one of them.
The army of liberation of the super-powers wants to attack the League of Villains. In the next Chapter, Destro could team with the heroes because the latter is obviously willing to develop gadgets for them.
In "My Hero Academia" Chapter 2019 fans might also see Todoroki and Bakugo facing the new group of villains.
And yes, the two apprentices now have their provisional license.
Overall, Manga fans can then expect upcoming chaos with the rise of this movement that might begin in "My Hero Academia" chapter 219.
The Manga was created by Kohei Horikoshi and had been running in Shueisha's Weekly Shonen Jump since July 2014.
This news article has been verified through:
https://news.otakukart.com/100304/my-hero-academia-chapter-219-release-date-and-spoilers/
https://www.econotimes.com/My-Hero-Academia-Chapter-219-Release-Date-Spoilers-Meta-Liberation-Army-Is-the-Main-Antagonist-in-New-Arc-1506332
Click to read more
and watch the video
or