Boruto: Naruto Next Generations Chapter 33: Hokage's final strike on Kara's member
Fans have seen Naruto showing off the technique of Lava Style Rasenshuriken.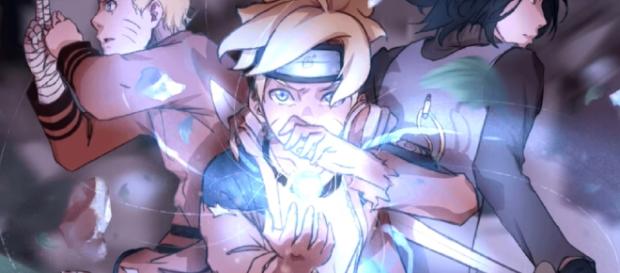 "Boruto: Naruto Next Generations" Chapter 33 is all set to show the finale of the battle between Naruto and Delta On 25th March 2019. As the fans already know, the clash between Naruto and Delta is getting closer than ever. These two challengers are giving a tough fight to each other. At this point, it is difficult to say that who will win this much-anticipated battle. In the last Chapter, fans have seen that the young Hokage has been repeatedly put with his back to the wall. Meanwhile, the next chapter of the anime will be available in the 17th issue of Weekly Shonen Jump. One can expect the raw scans of the chapter to arrive on 22nd March 2019.
Action packed episode
"Boruto: Naruto Next Generations" Chapter 32 kicked off the long-awaited battle between Naruto and one of the strongest members of the Kara, Delta. The body of Delta has been revealed in this episode, which is looking indestructible. Naruto is now finding a way to break the opponent's defense and to do so; the Hokage had to draw his repertoire of techniques. This is the reason which suggests that Chapter 33 will be an action-packed as Naruto and Delta will be up against each other one more time.
Fans have seen Naruto showing off the technique of Lava Style Rasenshuriken. However, the result of Rasenshuriken is minimal as it only succeeds in burning Delta's legs. This move proves to be less effective than the last one as Delta's limbs quickly grow back. In the previous chapter, Delta pounced on Boruto, knocked him down, and threw Himawari into the air. The little girl becomes the new target of Delta's eyeballs, but Naruto throws herself between the two to save her daughter. Kawaki emerges From the cloud of dust that has interposed the attack and Naruto acted as a shield.
Boruto has limited options
It is worth noting that Naruto does not seem to have more options left. It looks like that an incredibly powerful and effective technique used to face one of the most formidable adversaries in the Naruto series has now turned out to be useless. According to Animexscoop, Naruto just needs one clear hit at her torso with a large scale attack to finally stop her. It's useless to attack her legs and hands as they will just regenerate immediately. Fans can expect Naruto to adopt the same strategies in "Boruto: Naruto Next Generations" Chapter 33 to get rid of Delta.
She might lose the battle and Kashin Koji retreat with her body, reports Otakukart. It is important to note that the end of this battle could start the new arc of the anime.
This news article has been verified through:
https://comicbook.com/anime/2019/03/02/boruto-naruto-rasenshuriken-lava-style-chapter-32/
https://news.otakukart.com/570223/boruto-chapter-33-release-date-and-spoilers-naruto-vs-delta-concludes/
Click to read more
and watch the video
or