One Piece Chapter 935 Spoilers: Luffy tortured by the Queen
The release of the One Piece Chapter 935 has been delayed by one week.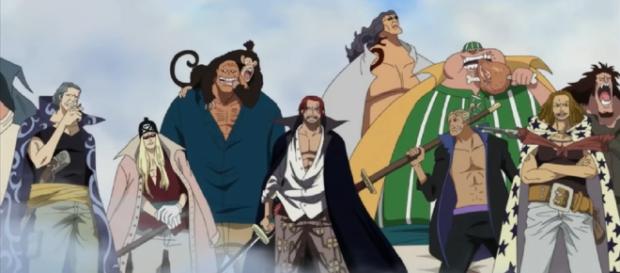 "One Piece" Chapter 934 is all set to release this weekend. Meanwhile, the spoilers of the next chapter are already making rounds on the internet. The anime is currently running the narrative arc set in the village of Wano, commanded by the Shogun and controlled by the emperor Kaido. To overthrow the totalitarian regime led by the two, Sanji and the whole crew, finds themselves undercover in the streets of the samurai nation.
To those who don't know, the release of the "One Piece" Chapter 935 has been delayed by one week.
According to Otakukart, Luffy could be tortured by Queen until Raizo intercepts, and then Big Mom manages to tear down the walls of the prison and attack Queen. In the next chapter, one can hope to see Queen fighting Luffy, although it is clear that Luffy will not fight well because he is handcuffed with sea stone.
The new chapter
"One Piece" Chapter 934 raw scans are already available. The chapter begins with a conversation between the pirates of the Yonkou, who were saved from King's attack and are on the shores of the Wano Sea.
In these pages, a detail is revealed that was confirmed chapters back, BigMom and Kaidou were part of the same crew.
On the other hand, Hitetsu-San complained to O-Tama to return after learning that he was with Momosuke, while Chopper, O-Kiku, and BigMom going to Udon. In this conversation, Momo makes a cry of "Snatch," calling O-Kiku's attention, "Where did he learn that scream ...?" Momosuke revealed that Zoro taught him how to shout like that, so the kunoichi told him that this exclamation was from the old Kuri dialect, so it can be deduced that maybe Zoro was from Wano or maybe his teachers. Meanwhile, the Mugiwaras were safe in the northern cemetery.
Komurasaki's death
Kanjuro reveals that the ancient leader of the Yakuza was not Kyoshiro. Robin reveals many details about the shogun and Kaidou that may be important for the final battle and Brook says he also found a Poneglyph. Finally, they decide to go to the bathhouse. Sanji mourns the death of Komurasaki while Law reports that Eustass Kid escaped from prison. And Luffy? He is still trapped and sees how they mistreat the old man he had saved chapters back. When one of the guards continues to attack the old man, he reveals that it is Hyougoro La Flor.
Luffy runs to save him and attack the guard. At that moment, one of the All-Star, Queen, is arriving at the prison. Thus concludes One Piece manga 934 with a small message, "Next week the manga will be resting."
This news article has been verified through:
https://news.otakukart.com/030222/one-piece-935-delayed-new-release-date-and-spoilers/
https://www.gamenguides.com/articles/one-piece-chapter-934-spoilers-raw-scans-and-release-date-55008/
Click to read more
and watch the video
or