One Piece Chapter 934: New character introduction, Big Mom shows in Wanokuni
People are in tears because of the death of the much-loved Komurasaki.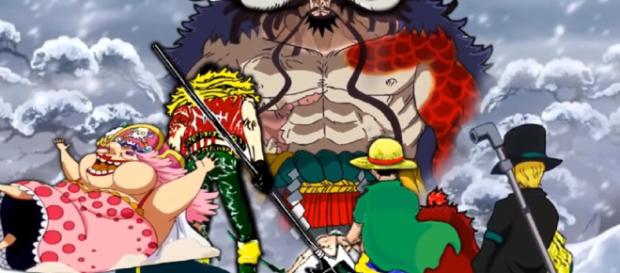 "One Piece" Chapter 934 deepens the status of all groups of characters on Wanokuni, expanding and deepening the geography of the island homeland of the samurai. Let's take a brief summary of previous events, Orochi's court came into turmoil after the incident with Komurasak, who slapped the shogun. Following the wrath of the Wanokuni chief, Kyoshiro unsheathed his sword and apparently killed the courtesan. On the other hand, Nico Robin, Nami and the others from the Straw Hat group managed to escape from the castle.
Chapter 934 raw scans
"One Piece" Chapter 934 might introduce a new character. The synopsis of the episode suggests that just outside Wanokuni, near the famous scalable waterfall, the Big Mom crew shows up with the elder brothers of the family as they look for a way back from the Empress. The latter is still alive, as the Vivre Card in possession of Perospero is still intact. However, Smoothie suggests an alternative approach, stating that Big Mom is not a normal person and will certainly manage to survive on the island.
The scene shifts briefly to Kuri, where Tengu is communicating with O-Tama via a lumacophone. The girl is heading to Udon with O-Kiku, Chopper, Momonosuke and Big Mom. Naturally, Tengu disagrees and requires everyone to go home, but communication stops.
After the brief interlude with the strange group directed to Udon, the focus moves instead on Ringo, another area of the island, where Nami and the others took refuge after escaping from the castle of Orochi. While they think of taking a break with a bath at the spa, Nico Robin says she is disappointed by the lack of information she has been able to find.
On the contrary, as underlined by Kanjuro, the collected data is in large volume. Meanwhile, Brook has managed to find a Poneglyph that does not correspond to the stone that could lead them to Raftel.
Story continues
"One Piece" Chapter 934 will also show in the middle of the capital of flowers, the people are in tears because of the death of the much-loved oiran Komurasaki. The group with the cook, Franky, Usopp, and Law is looking for information in the newspaper and a way to contact the other members of the group.
Meanwhile, Sanji is thinking of making a jump at the spa to take advantage of the new power of invisibility given by Raid Suit Germa.
The last scenario glimpsed in this chapter of "One Piece" Chapter 934 is instead dedicated to the prisoners' mine, where fans finally discover that Hyogoro, the man who once was the head of the local yakuza. According to GamenGuides, the old man swallowed something, but the guard noticed it as Luffy came to the rescue.
This news article has been verified through:
https://www.gamenguides.com/articles/one-piece-chapter-934-spoilers-raw-scans-and-release-date-55008/
https://www.econotimes.com/One-Piece-Chapter-934-Release-Date-Spoilers-Big-Mom-Pirates-Panicking-Wano-Mourns-Komurasaki-Death-1501314
Click to read more
and watch the video
or