One Piece Ch 935 Rumors: Luffy in trouble against Queen, need Big Mom's help
In the previous chapter, fans saw the state of the Big Mom pirate crew after being beaten back by King.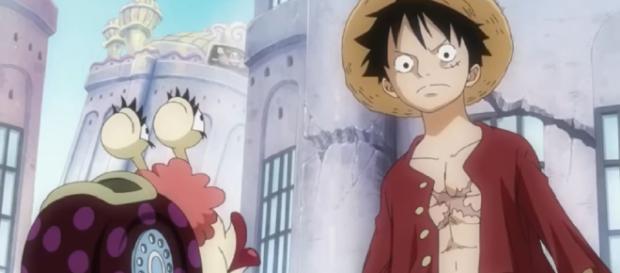 Those who are waiting for "One Piece" Chapter 935, you must be patient because the anime is off next week. The next chapter will be published with the Weekly Shonen Jump 15th issue on 28th of March 2019. The announcement of the holiday for the upcoming chapter came at the end of Chapter 934. "One Piece" Chapter 934 has come out, and the Wano arc tension has really dropped. Even so, the latest chapter of the anime was quite interesting because there is the appearance of Luffy and Queen, who has missed several chapters.
As it happened
The previous Chapter opens at the Wano border. Finally, fans saw the state of the Big Mom pirate crew after being beaten back by King. However, Persopero and friends were looking well with Queen Mama Chanter but failed to enter Wano. Meanwhile, in Amigasa village, it appears that Hitetsu is using a small den-den Mushi to communicate with O-Tama. Apparently, O-Tama boy didn't ask permission from his teacher to go to Udon with a stranger, Big Mom. O-Tama seems very eager to free Luffy-Aniki.
But the question is, has Chopper told about Luffy and Ace to O-Tama? Remember they were friends for a few days.
Fans saw the state of the Big Mom pirate crew after being beaten back by King. Big Mom looks different from her Wano hairstyle, and she is still amnesiac and kind even though her hunger doesn't change. But it seems that his memory slowly began to return because he felt familiar with the name "Big Mom."
Chapter 35 of 'One Piece'
"One Piece" Chapter 935 is expected to feature Luffy vs Queen.
According to EconoTimes, the likeliest scenario involves Luffy beating the jailor down and Queen showing up to dole out the punishment. Luffy is rumored to struggle in this battle. According to Hiptoro, the Queen tortured Luffy until she's intercepted by Raizo. Notably, Luffy won't be able to fight until he's cuffed with seastone. The biggest help for Luffy might be Kiku, Chopper, Momo, Tama, and Big Mom groups. Even though Queen feels like going to fall out if she has to fight Big Mom. Queen will be serious and use her Devil Fruit.
On the other hand, Raizo can take advantage of the riots that Luffy created to steal the handcuffs key.
What's interesting is, after escaping from Page One, Sanji ended up hiding in Ebisu City. Fans might remember the last time Zoro and Yasu stopped by here. In Chapter 934, Zoro does not seem to have met anyone else; Sanji and Law were not aware of Zoro's presence. Will they meet in the next chapter? Only the time will tell.
This news article has been verified through:
https://www.econotimes.com/One-Piece-Chapter-935-Release-Date-Spoilers-Luffy-Fights-Queen-Over-Former-Yakuza-Boss-1502014
https://www.hiptoro.com/p/one-piece-935-raw-plot-rumours-release-date-spoilers/
Click to read more
and watch the video
or