My Hero Academia Chapter 218: The new arc might begin with new villains
Release date, spoilers and raw scans update of Hero Academia Chapter 218.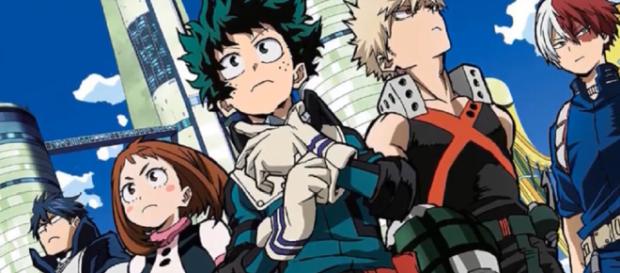 "My Hero Academia" Chapter 218 might debut a new arc. A number of fans called the last training match arc quite boring. A fundamental point of every self-respecting shonen manga is undoubtedly the evolution of the characters. Kohei Horikoshi seems to have understood this very well by judging by his choices for the opera "My Hero Academia."
In fact, many of his creations do not remain static over time, and indeed modify their behavior according to the circumstances and the events that involve them, not necessarily for the better.
The last example of such a tendency is what fans have seen happening during the last chapter of the work above, and it concerns Shoto Todoroki in particular. Fans saw the young man meeting Izuku Midoriya after the battle that featured two classes of students collide.
Upcoming chapter
The last arc saw Eri and Midoriya both promised to master their quirks to help people. The next chapter is likely to resume from Midoriya, who is trying to bring out the new potentialities of his power, One For All. Fans will see some development with Midoriya and its peculiarity of Black Whips. Meanwhile, In the upcoming chapter, fans could expect a number of villains in the story.
According to Otakukart, in the new arc, the villains will likely make an appearance, and fans might see something related to Shigaraki as well. The next chapter of the anime could also feature Todoroki and Endeavors' past as well.
"My Hero Academia" Chapter 218 is also expected to reintroducing the League of Villains, reports EconoTimes. One can only hope that Shigaraki or Gabi will make an appearance in the next chapter if only to shake things up a bit. Overall. The fate of many prominent characters will be decided in the next episode. However, a lot of information regarding the upcoming chapter is still yet to come.
Release date
Talking about the previous chapter, Deku does not waste time and explains that until his last duel he was not even aware of the existence of his second Quirk. He is far still from mastering his abilities at the moment. The aspiring hero takes the opportunity to congratulate Shoto, who has shown a great ability in his use of fire. The scene then moves on Endeavor, Shoto's father as well as world-famous Pro Hero, who receives a message from his son requesting a workout together.
To those who don't know, It has been announced that the anime will take seven days off.
"My Hero Academia" Chapter 218 will be out officially on 4th of March 2019. The scans for the chapter will be available on 1st of March 2019.
This news article has been verified through:
https://news.otakukart.com/460225/my-hero-academia-chapter-218-new-release-date-announced-more-spoilers/
https://www.econotimes.com/My-Hero-Academia-Chapter-218-Release-Date-Spoilers-Break-Hints-at-Preparation-for-Major-Arc-Events-1502053
Click to read more
and watch the video
or