One Piece Chapter 931 Synopsis: Big Mom's fate at stake plus Sanji vs Page One
A lot of fans are excited to see a much-anticipated fight between Sanji and Page One.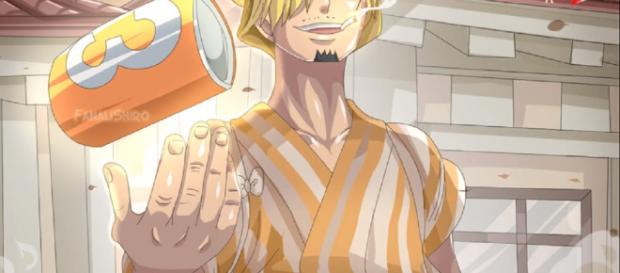 "One Piece" is all set to come up with Chapter 931. The anime is just around the corner and at any time the official spoilers could leak online. But before the fans goe wild, let's discuss the events that may happen in this chapter. For a start, Big Mom will reach to the Wano Country. In Episode 930, fans have seen intense clashes, however, the upcoming episode is expected to be more entertaining as the fates of many prominent characters will be at stake. Readers are advised that this article contains spoilers.
Big Mom's future
All eyes will be on Big Mom in the upcoming chapter. While fans are intrigued what will happen to Big Mom and how she will survive after seeing her drowning in the stream, most of the fans are more excited to see the fight between Sanji and Page One. As TheAnimeScrolls notes, Law told Sanji that he shouldn't fight Page One unless he was absolutely confident that he would not lose. In reply, Sanji took out what appears to be a canister holding his Raid Suit that he got from his family.
However, the suit does not guarantee a win for Sanji against Page One. It's also worth noting that Page One is one of the most powerful characters in the anime and he is a subordinate of Kaido, along with X Drake.
Chapter 930 spoilers
In "One Piece" Chapter 930, Emperor Big Mom and her crew are all submerged in the water. Emperor Big Mom and Emperor Kaido currently have one common goal which is to kill Luffy and the Strawhat Pirates.
Spoilers suggest Big Mom might survive in "One Piece" Chapter 931 after their ship sank.
Also, with the arrival of Emperor Big Mom in Wano Country, it's also intriguing to know what will be her role in the upcoming war between the Strawhat Pirates alliance and the Beast Pirates alliance.
According to EconoTimes, after Big Mom fell in the ocean, Perospero might come to save Big Mom or one of her children. There is also a possibility that she will save herself. Also, Smoothie may come in Chapter 931 to lead the Big Mom Pirates. Notably, in chapter 929, fans had already seen the table in which Zoro has the company of a new character, a thief who will no longer have to worry about food now that the swordsman is with him.
"One Piece 931" official release date is 4 February 2019. The scans will be out by 1 February 2019. A lot of information is yet to come regarding the anime, stay tuned for more anime news and updates. Remember to follow the Entertainment Channel on Blasting Pop for more news about "One Piece."
This news article has been verified through:
https://theanimescrolls.com/one-piece-chapter-931-release-spoilers/
https://www.econotimes.com/One-Piece-Chapter-931-Release-Date-Plot-Characters-Sanji-to-Show-his-Raid-Suit-for-the-First-Time-1487357
Click to read more
and watch the video
or