One Piece Chapter 928: An interesting anecdote about Eustass Kid
Monkey D. Luffy and Roronoa Zoro, has discovered on their skin how dangerous the crews of the Emperors can be.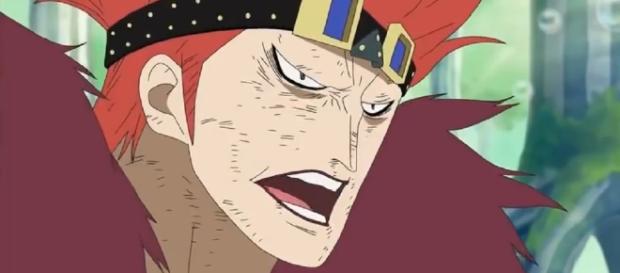 The pirate world of "One Piece" has always been rather wild and dangerous, but the most lethal of all seas is undoubtedly that of the so-called "New World," ie the second half of "The Major Route." where the Four Emperors rule. In this regard, a pirate belonging to the "Worst Generation [VIDEO]," which also includes Monkey D. Luffy and Roronoa Zoro, has discovered on their skin how dangerous the crews of the Emperors can be. According to that revealed by chapter 928 of "One Piece," in fact, Eustass "Captain" Kid would have lost his arm during a clash with the pirates of Shanks the Red.
Eustass Kid
When Caribou, in Wano's cells, tried to persuade Luffy to ally with him to take down Kaido, the pirate asserted that Eustass would lose his arm during a naval conflict with Big Mom and his subordinates. Eustass himself, however, then entered into the conversation and explained that he had lost his limb during a battle with Shanks, long before he challenged and wounded one of Big Mom's Sweets Generals.
Unfortunately, the fans could not see the aforementioned Eustass conflicts, but it is almost certain that the captain feels resentment towards Shanks the Red. After all, not long ago, the pirate had even allied himself with Basil Hawkins and Scratchmen Apoo to overthrow the emperor.
New year theme design
To wish a happy new year to their fans, some authors of the calibre of Eiichiro Oda, and Kohei Horikoshi - authors of "One Piece" and "My Hero Academia" respectively - have produced some themed drawings. Eiichiro Oda and Kohei Horikoshi are two of the most representative mangakas of the current generation of Weekly Shonen Jump, the illustrations have been published in the new issue of the magazine Shueisha. In the case of "One Piece," I have a close-up of Luffy wearing a boar-shaped hat.
In the case of "My Hero Academia," instead, we see Izuku Midoriya (protagonist of the opera) chasing a wild pig showing off a wide smile.
The thematic choice of the wild boar, recurring in these New Year's designs, derives from a specific reason: 2019, according to the calendar of the Japanese zodiac, will be the year of the wild boar. For this reason, therefore, the mangaka in question decided to pay homage to the new year with a theme design. Meanwhile, "One Piece" continues to grind records for over twenty years, and which sees its narration continue forward towards a finale that still seems far away.
There is a lot of information yet to come regarding the anime, I will keep you updated. Stay tuned.
This news article has been verified through:
https://www.devdiscourse.com/article/entertainment/293597-one-piece-chapter-928-spoilers-will-sanji-be-defeated-by-queen-orachis-eye-on-komurasaki
https://www.inquisitr.com/5227103/one-piece-chapter-929-spoilers-cp-0-arrives-in-wano-sanji-and-law-fight-drake-and-hawkins/
Click to read more
You will watch a video to read the news
or