Boruto: Naruto Next Generations, Mitsuki and Oonoki's fate appears painfully decided
The former Tsuchikage who will decide for the last time in the field and face Kuu hoping to put an end to all this evil.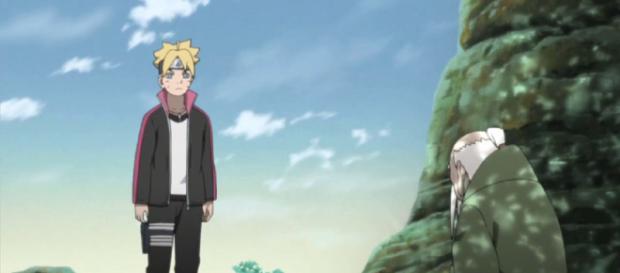 Am waiting to see what will happen to Boruto and Sarada in episode 89, the animated series of "Boruto: Naruto Next Generations" which is preparing the ground to conclude the narrative arc dedicated to the disappearance of Mitsuki. While the internal turmoil of Mitsuki does not seem to want to leave it alone, the intention of these last episodes seems to have focused mainly on the figure of the former Tsuchikage, Oonoki.
The synopsis
With the ending of this narrative arc, entitled "Disappearance of Mitsuki," which is advancing with great strides, the hypotheses on what could happen seem varied and don't appear to lead to a happy conclusion.
Thanks to Twitter user @OrganicDinosaur, I can take a look into the future and the synopsis of one of the episodes that might anticipate an unhappy event within the series concerning the old Oonoki. Surely having got to know this character and his past has allowed us to understand more deeply the choices he made.
Episode 91 of Boruto: Naruto Next Generations
With the hope of bringing Mitsuki home, episode 91, "The will of Oonoki," will be decisive for the future of the former Tsuchikage who will decide for the last time in the field and face Kuu hoping to put an end to all this evil.
What the old man can do is put his own life at stake to stop the adversary's folly.
The resignation of old Oonoki could really make us think of the inevitable that will lead to his death, yet the helpless witness to the destruction that continues to surround Kuu must have pushed him to make an important decision. The initial plan to create artificial beings, designed following the death of his nephew Kozuchi, was intended to avoid the deaths of other humans and further bloodshed seems to have turned against the elder.
In fact, the constructs seem to have developed their own desires and emotions.
Perhaps this is what will push Oonoki at the end of everything to meet what he has always tried to avoid, sacrifice. Offering his life would mean accepting and completely recognising the importance of will and men - as well as of beings. Dying to save others, a concept that could actually give this narrative arc even more importance. For now, of course, they are only suppositions. As sad and painful as losing an important figure and doing a lot in the Naruto series, this could be an appropriate way to end Mitsuki's bow.
What do you think of these last episodes of "Boruto: Naruto Next Generations" and of what might save the future of Oonoki and other characters? Fans have to wait to know the answers.
This news article has been verified through:
https://comicbook.com/anime/2019/01/12/boruto-naruto-synopsis-kage-death-tease-onoki-anime/
https://comicbook.com/anime/2019/01/09/boruto-90-91-preview-mistuki-arc-ending-onoki-death/
Click to read more
and watch the video
or