Boruto: Naruto Next Generations Episode 89, Sarada and Kirara's battle for life & death
The synopsis for episode 89 revealed that Kirara may have appeared as a good girl.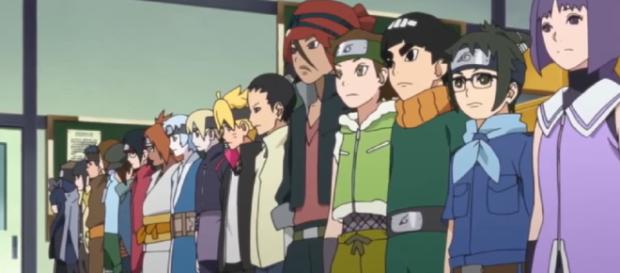 "Boruto: Naruto Next Generations" will release a the Episode 89 on Sunday, 13th of January. The upcoming episode preview hints a duel between Boruto and Sarada; fans will discover that Hidden Stone has been taken over in a coup by Lord Ku and his Fabrications. "The synopsis for episode 89 revealed by Hero's Fact gives an indication that Kirara may have appeared as a sweet girl, but she would not restrain her reign to utilize her powers against Sarada and Boruto, reports Devdiscourse. Here is the synopsis of the upcoming episode.
Synopsis of 'Boruto: Naruto Next Generations' episode 89
"Boruto and Sarada were separated from their companions. Kirara, the human synthetic that was made especially for Kuu, appears before the two young ninjas. His speciality is the illusory arts and, therefore, does not give Sarada the opportunity to use his Sharingan to counterattack. The woman has immobilized her adversaries, making them marionettes to be controlled as she pleases. In doing so, he orders the two to fight to kill each other.
Quick translation for the preview of Boruto anime EP #88 and #89, which will be broadcast in January~! Full-length episode synopsis and schedule from Animedia or Newtype magazine should be publishing soon. WSJ is on break this week. pic.twitter.com/QGoJNbnsQY

— OrganicDinosaur (@OrganicDinosaur) December 26, 2018
Meanwhile, Oonoki, the previous Tsuchikage, was imprisoned at the behest of Kuu. The business for the Village has now taken a completely different twist than it had planned. Reflecting on the dialogue he had with Boruto.
However, Elder Shinobi begins to admit his mistakes."
Boruto's birthday
Naruto Uzumaki's birthday is among the most famous in the anime world, but very little can be said about his son Boruto. The birthday of the protagonist of "Boruto: Naruto Next Generations" had been kept in the dark for everyone. At least until now.
Now the fans of anime and manga of "Boruto: Naruto Next Generations" will be able to celebrate the blond ninja on March 27th. On the pages of Weekly Shonen Jump
, in one of the most recent issues, it was revealed that Boruto was born at the end of March, a few days before the group partner Sarada Uchiha, born on the 31st.
This brings the two characters very close, born only four days apart. Instead, nothing is known of Naruto's other daughter, Himawari Uzumaki. For Boruto's sister, a birthday was celebrated during the Chuunin exam, but the fans were never informed with a specific day. Now surely the ball will go back to Mikio Ikemoto and Ukyo Kodachi, as well as to the editorial staff of Shueisha magazine, to choose the date of birth of this other character. Coming back to "Boruto: Naruto Next Generations" Episode 89, one can surely expect a lot of action in this chapter.
This news article has been verified through:
https://comicbook.com/anime/2019/01/03/boruto-episode-89-boruto-vs-sarada-duel-kirara/
https://www.devdiscourse.com/article/entertainment/317739-boruto-naruto-next-generations-synopsis-pitches-fight-between-boruto-sarada-kirara
Click to read more
You will watch a video to read the news
or