'Dragon Ball Super' Update: Goku's determination in the "Tournament of Power"
Winning the "Tournament of Power" might not be easy for Goku's team as some are also determined to win the competition.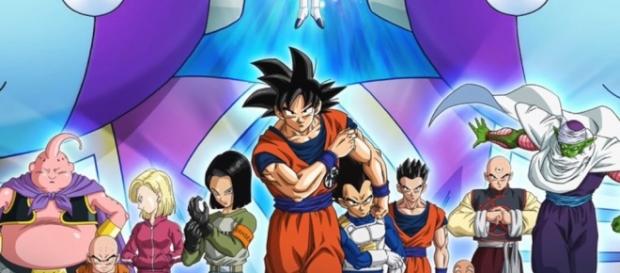 "Dragon Ball Super" Episode 98 is one of the promising episodes for the series as chaos and wrath try to creep in the show. In the synopsis released online, Universe 7 would face a great battle as they were immediately put into a test against other universes. It was told that the upcoming episode for the series would reveal if Goku's team was able to escape the ambush of the other groups. With that, fans are asking: what could exactly happen to the Universe 7?
Goku tries to escape from other fighter's wrath
Fans speculated that the Episode 98 of "Dragon Ball Super" would be bloody than the usual as eight fighters would try to attack Goku.
The latter would then accept the challenge as it could be his training ground in preparing for the Tournament. Moreover, the show's episode 99 would feature the destruction of a specific universe and the progress of the most awaited battle. It was then told that the Omni-Kings are excited with what's going to happen in the tournament as situations get more intense than ever.
As Inquisitr reported, the Dragon Ball Super Episode 98 entitled "Oh Uncertainty! A Universe Despairs!!" would be the second episode made specifically for the "The Tournament of Powers".
It was remembered that there are almost 80 fighters who participated in the said competition. However, it was confirmed that few groups would remain firm and strong as some would be forced to retire from the tournament.
Universe 9 faces Goku and Vegeta
Other than that, Universe 9 is seemingly off to a rough start as Goku's voiceover suggests that Vegeta would try to settle matters with regards to the other team through a battle. It was confirmed that the said battle will not be easy for the U9 group as it could be an indicator of their early retirement in the competition.
The first few scenarios for "Dragon Ball Super" Episode 98 showed Goku's determination in fighting against different fighters, including Bergamo and Lavender. The Universe 7 team leader would be able to manage the attacks of the enemies without any problems and hesitations. On the other hand, Vegeta would also be seen beating one massive fighter in the competition.
Universe 9 bids farewell to the "Tournament of Power"
With that, it is expected that Universe 9 would be the first team to sacrifice their luck in the Tournament of power.
And despite Basil's ability to lead the said team, fans believed that it would be a great foreshadowing of the team's instant defeat in the battle.
Click to read more
You will watch a video to read the news
or