Dragon Ball Super: New team member of universe seven revealed
Toyotaro confirms changes in the team of universe seven, and Toei reveals his name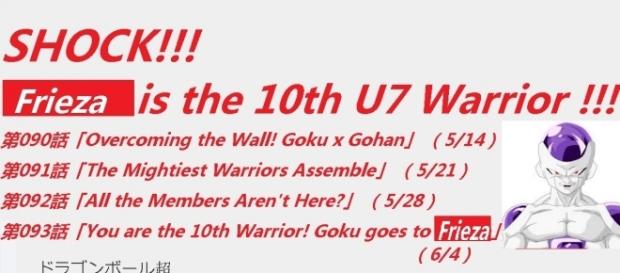 It has been quite popular Toyotaro's visit to Italy, a country quite fanatical for Dragon Ball and other animes, where he has done some interviews; two of which have been translated so far unveiling unpublished and surprising details. Among the highlights of these interviews, we can say that Toyotaro and Akira Toriyama have a close relationship to create the manga, since the master Akira makes the written script so that its publisher Toyotaro sketches the story to be revised later.
The editor of the manga was also consulted on the saga of Black, which has not yet finished, and about it mentioned that Vegeta and Goku will survive. However, this end will have marked differences with the version of the anime.
Will the team of the universe have seven changes for the survival tournament?
Despite the great revelations mentioned above, undoubtedly the most important is the following; the interviewer asks Toyotaro to say a few words regarding the current arc of the anime in Dragon Ball Super, to which he replied: "All I can say is that they do not believe they know the final teams in the power tournament, even if they have already been revealed."
This information can be related to the title of chapter 92th revealed last week, which is: "Are not all members there?" This could be interpreted in different ways, however, there is no doubt that with all the information one of the fighters in the universe seven is likely to be missing.
Among the main candidates not to take part in the tournament are the weaker ones, Ten Shin Han, Krilin and Roshi. Maybe one of these warriors may decline to participate in the tournament Multiversal, given the number of powerful warriors there will be.
Who can occupy any of the vacant seats in universe seven?
Because Toyotaro confirmed changes in the definitive team of universe seven, the question now is, how those places will be occupied? For the initial incredibility for this detail by the fans, has leaked the name of the tenth participant of the universe that governs Beerus and Shin, the information is real and truly incredible, since none of the followers of the series, hoped to see again to this character on stage.
This is Freezer who has announced returns for the power tournament, in the 44th chapter of the series.
It could be misleading titles as it has already happened, but the source who has published the information is nothing more and nothing less than Gojiitaaf, a fairly reliable site and rarely publishes wrong information However, do not take nothing for granted until to be 100% official.