Are Kale and Karifura the same person?
Was not Karifura the Legendary Saiyan? Information leaked from the real Broly girl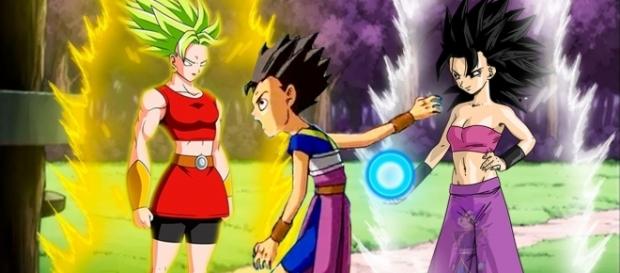 Incredible, it has leaked a very important information on Dragon Ball Super and has been directly from the website of Toei Animation. This is about the true identity of the legendary Saiyan, which we all thought was Karifura, who made his first appearance in Chapter 89th of the series, the last episode issued so far. However, the new revealed details about the universe 6, mention a new Saiyan woman and the description about her is exactly similar to that girl whose extreme power was seen in the opening, the power of the legendary super saiyan just seen in the movies with Broly.
What information there is about the new character?
The second female character of the saiyan race of the universe six is ​​called Kale, and is the girl who appears in the opening number two of Dragon Ball Super, making a drastic transformation that can be appreciated can be powerful. In this vein the Champa team would have three members from the planet Salad, they are Kyabe, Karifura and Kale. However, among the fans there are those who think that the two women are actually the same person, given that they have a similar description and this closely relates their personalities.
On the other hand, as it is natural the name of Kale comes from a vegetable, which is a derivative of cauliflower, broccoli and cabbage, although it is more like a spinach. It is said that she is always chewing, however, Kyabe mentions that she does it because she is too shy and nervous; this gives more sense to its similarity with Broly, since this unofficial personage was exactly equal in its base state, mainly in his first appearance.
Does Kale know about the transformation in Super Saiyan?
As it is known, the saiyans of the universe six despite having evolved, did not know the transformation that makes them overcome their limits.
However, the tournament organized by Champa served much for Kyabe to strengthen, thus gained a power Important for their race.
Since Kale and Karifura were unaware of the transformation, it will be Vegeta's disciple who has to teach them to release all their power, and in the same way that Trunks's father did with him, should unleash the fury of the girls, so that Kale's repressed stress and fury drive her to an exceptional level of power.
Everything seems to indicate that the universe six will not be an easy rival for its homologous, nor for the rest of universes that will participate in the tournament.
We hope to see epic battles coming up in the next few chapters.