'Dragon Ball Super': new chapters
Titles and brief summary of the next episodes of the series 'Dragon Ball Super'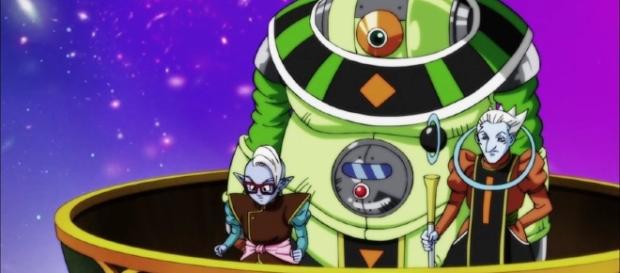 In the last hours of yesterday, the forum 2ch gave the unknown title of the next episodes of Dragon Ball Super, hours after was confirmed when a scan of a magazine of Japanese media was leaked, in which was also given a brief resume of these episodes.
In this resume is advanced to us that the battle between Toppo vs Goku will be interrupted by The Daishinkan, as well as that Bulma has given birth to Bra. Without further ado, there is the summary of the next episodes of the series.
Episodes
Episode 82: "I won't forgive you son Goku! The warrior of justice Toppo joins in!
Broadcast date: March 19
Meanwhile Goku and Toppo fight.
The Daishinkan stops their fight and tells them that they'll solve their affairs in the Power Tournament. The Power Tournament will be carried out as a Battle Royale in which 80 warriors of the 8 universes will fight at the same time, and the warriors will be removed if they fall in the sand. Losing means that their universe will be destroyed. The Tournament begins in 40 hours
Episode 83: Shaping the team of the 7 Universe! Which are the 10 most powerful?
release date: March 26
According to as the Tournament of Power is getting near, Bulma and Vegeta give life to a new life, which Goku and others must protect.
Can Goku meet the most powerful people in this battle that they have to win?
Episode 84: "Son Goku the recruited invites Krilin and N18"
Broadcast date: April 2
As the Tournament of Power is getting near, is born the second son of Vegeta and Bulma. This is something additional to defend. Goku must choose the members of the universe 7 for the tournament of power. He visits Krilin and Androide 18.
Episode 85: "The universes get moving: the thoughts of all"
Release date: April 9
More information
Goku goes to where Dendé to know the whereabouts of N17.
Meanwhile, all the Kaioshin of the Universe who'll participate in the tournament of power visit the universe 11.
It seems the thread that made Bérgamo to Goku of that all the Universes would go behind them in the tournament of power will be carried out since the Kaioshins will have a mysterious meeting in the universe 11, undoubtedly, exciting chapters await in Dragon Ball Super.
Click to read more
You will watch a video to read the news
or