Dragon Ball Super: an incredible battle, the definitive warrior returns.
Gohan expels his hidden power and cause astonishment to Daishinkan Sama.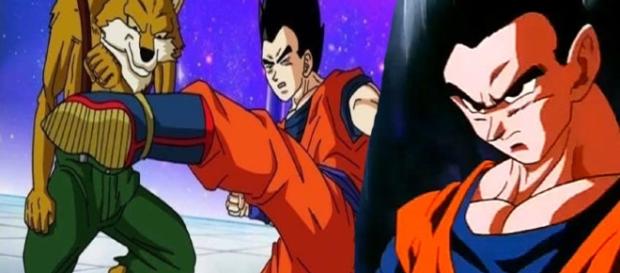 Dragon ball super is having a great reception with it new arc in the world, especially by the exhibition tournament that already begun, in which Majin Buu is developing a hard battle with Basil of Universe 9, all this in front of the Gods Zeno sama of future and Zeno Sama of present, besides of all Gods of destruction and kaioshin of every universe.
The chapter number 78 was very emotive because we could see how the stress encompassed the members of universe 9 and 7 for the threat of to see how Zeno Sama destroys the universe loser.
Majin Buu reborn in the battle
At the end of chapter number 78 we could see to Majin Buu to be kicked for Basil, apparently the first fighter of the universe 7 is losing the battle with his counterpart of the universe 9 who has the advantage, however, in the last scene while Majin Buu was on the floor for cause of the hits, he showed a smile of satisfaction indicating that he was just playing with his opponent, because of that Goku, Gohan and Mr Satan said him that the tournament was a game.
After of get up and get over the hits Majin Buu will fight seriously and this will put in trouble to Basil and in general to the universe 9, because the universe 7 will win easily the first Battle.
A second battle shocking
After of the Majin Buu battle in which he was the winner, Daishinkan Sama announces the second fight, in which finally we will see return to Gohan in a battle real and of epic proportions, he will face to Lavenda who was elected by the God of the destruction and the Kaioshin of the universe 9, whose confidence begun to decrease with the defeat of Basil. On the battlefield now there is two new fighters and the battle begins, again the team of the universe 9 has the advantage, this time because Lavenda expelled a poison and Gohan has lost the view, however, the saiyan will can fight still with his limitation because the Hidden Power in him finally will wake up.
What do you think of the second fight of the exhibition tournament between Gohan and Lavenda?
Click to read more
You will watch a video to read the news
or