Junsu from DBSK and Hani from EXID broke up
The lovely couple broke up after almost one year of dating. Their busy schedule is the reason.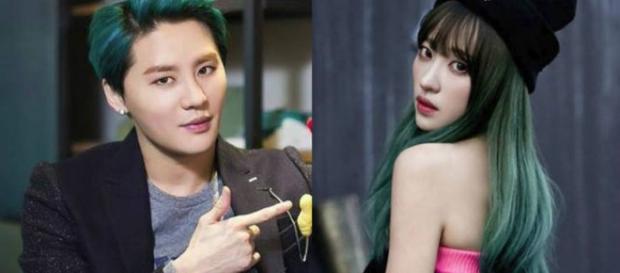 Back in January, the couple confirmed to be dating after Dispatch revealed proofs that the two K-pop stars are dating.
Kim Junsu is a former member in one of the most known K-pop bands in history, DBSK. After the scandal with SM and slave contracts, he and other 2 members started the group JYJ with a great success. The 29 years old idol is one of the hottest appearance in the K-pop industry and of course lots of fans gasped when they heard dating news.
Predictable Break-up
Hani, a 24 years old singer, member of a newer group in K-pop industry, EXID, is known for her childish look, vampire lips, and her sexy long legs.
The group she is in, EXID, was in some scandals in the past. Most of them regarding the explicitly and sexualisation of their music videos.
In South Korea, dating news, mostly do not mean something good. Saesang fans (those who could go crazy for their idols) will throw shade on their idols, try to find the meanest comments on their idol's partner and sometimes even goes to the level of death threatens. Also, the companies where the idols signed have a lot to suffer. The stock markets are dropping low, so it is essential to not mess around with dating news.
The K-pop idols are humans too, so companies can only accept the reality and support their idols.
Last year, Junsu asked Hani out and because she admired him a lot for his career she accepted. Sooner, the admiration turned to a closer relationship. They've spent Christmas Eve together and the sparkle got bigger and bigger. 
Break-up Statement
On September 14, EXID's agency stated that is true "Kim Junsu and Hani broke up." They added that they can not confirm a specific reason. Looks like they naturally drifted apart because of their busy schedules.
This is a typical response from agencies after a break-up. Mostly couple break ups were augmented with busy schedules.
The fans stated that the break up was months ago, but the true is known only for Junsu and Hani.
Meanwhile, Hani is having a well-deserved break and Junsu is preparing for his musical, Dorian Gray.
Check this video where Hani talks about her boyfriend on national television: