Chocolate and Wine: Perfect Partners for Valentine's Day
A Romantic Chocolate Cake paired with an Aphrodisiac Italian Sparkling Wine: Brachetto D'Acqui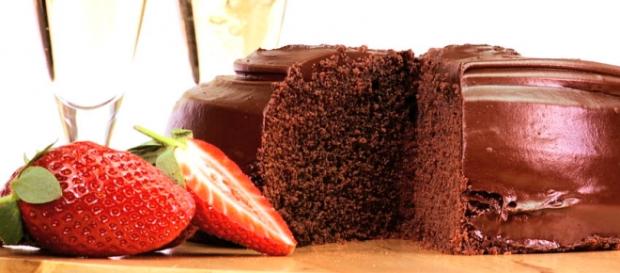 Valentine's day is approaching and the chocolate cravings are already kicking in, helped by these temporary bursts of wintry weather. Chocolate and #Wine have long been considered tricky partners. The main issue is that the persistent taste of chocolate, particularly when of high quality, can clash with the notes and flavours of most wines.
Nowadays, the conflict between chocolate and wine is considered by many sommeliers as a long-gone prejudice. In particular, the pairing can actually work very well with chocolate-based cakes. The main rule is that the wine should be sweeter than the dessert it accompanies. A wine that really suits chocolate cakes is Brachetto, a sweet sparkling red produced in a small territory of Piedmont, in North-western Italy.
Brachetto is the right wine for a romantic Valentine's dinner. Moreover, Brachetto is traditionally renowned for being gifted with aphrodisiac powers: "Legend tells that Julius Caesar and, later on, Mark Antony sent many wineskins of vinum acquense, the progenitor of Brachetto, to the court of beautiful Cleopatra before their arrival to rekindle their encounters" says Paolo Ricagno, President of the Consorzio di Tutela del Brachetto, the association of local producers based in the small town of Acqui Terme.
We cannot help mentioning the Brachetto d'Acqui DOCG Il Pineto by Marenco, available on the online store #Libiamo Wines: owing to its sweet and mellow character, a wine able to "convert" non-drinkers, also because of its low alcohol content (5.5%).  It is ruby red and features a soft, creamy foam.
In the nose, the Brachetto shows an aroma of wild roses with scents of strawberry and cranberries, joined by fragrances recalling cinnamon and fresh mint. At the tasting, sweetness and acidity are perfectly balanced.
We have asked the locals in Acqui Terme for a chocolate cake recipe to pair with this wonderful sparkling red wine. The answer was the following: whisk 3 eggs and 8 ozs. of white sugar until the mixture is homogeneously liquid. Add 250 ml of corn oil, 4.5 ozs. of white yoghurt, 1 shredded orange peel, a pinch of dried chilli pepper in powder, a pinch of salt and, at the end, 9 ozs. of flour, 3.5 ozs. of corn starch and 3 cocoa spoons. Stir until the dough is smooth, smooth. Pour into a baking pan previously greased and floured (24 cm diameter) and sprinkle it with brown sugar. Bake it (in a pre-heated oven) at 180 C for 45-50 minutes. Turn off the oven and leave the cake in the open oven for another 10-15 minutes. Buon appetito and...Happy Valentine's with Libiamo! #Food