5 facts about Sardar Patel's Statue of Unity, the tallest in the world
Indian Prime Minister Narendra Modi unveiled the Statue of Unity, the tallest in the world, as a tribute to freedom icon Sardar Vallabhbhai Patel.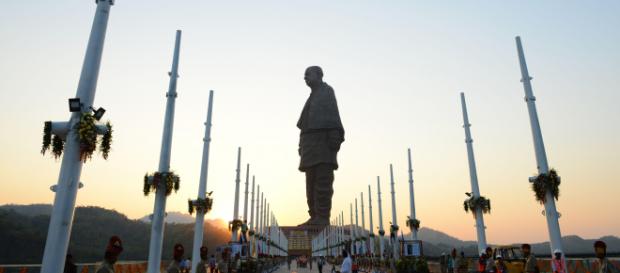 India has officially won the title for being the country with the tallest statue in the World as of October 31, 2018.
The £314m Statue of Unity, an effigy of the independence hero Sardar Vallabhbhai Patel, stands at 182 metres, making it nearly twice the height of New York's Statue of Liberty. The statue of Sardar Vallabhbhai Patel, made on an island named Sadhu Bet close to the Sardar Sarovar Dam, is 182 metres tall which makes it 54 metres taller than Spring Temple Buddha.
Let us take a look at the top 5 facts about this marvellous statue:
1
The Price of the statue
The Statue of Unity was constructed by the Indian company Larsen & Toubro Ltd at the cost of ₹2,989 crore, which is roughly about 319 million pounds. The statue's construction took 75,000 cubic metres of concrete, 5,700 tonnes of steel structure, 18,500 tonnes of reinforced steel rods, and 22,500 tonnes of bronze sheets.
2
Tourist spot inside the statue
The statue is house to a viewing gallery located on the chest which can take up to 200 people at one time. There are two high-velocity lifts which will take the tourists to this spot, from where one can get a bird's eye view of the Satpura and Vindhyachal hills, along with the Narmada river and its dam.
The statue is meant to endure winds of up to speeds of 180 km/hour and earthquakes measuring as high as 6.5 on the Richter scale. All this has been made possible even after several challenges such as the height, the walking pose of Sardar Vallabhbhai Patel and it's middle of the river location.
On the banks of the Narmada stands the majestic statue of a great man, who devoted his entire life towards nation building.

It was an absolute honour to dedicate the #StatueOfUnity to the nation.

We are grateful to Sardar Patel for all that he did for India. pic.twitter.com/q2F4uMRjoc

— Narendra Modi (@narendramodi) October 31, 2018
4
The thought behind the statue
The statue has a three-star hotel, a museum and an audio-visual gallery within it. With this statue, the government has tried to make a beautiful spot for tourists which will improve tourism in the hilly terrain.
5
The artist who designed it
Ram V. Sutar, a 93-year-old Noida-based sculptor has designed this statue paying close attention to the details. To get it right, he studied around 2,000 images of Vallabhbhai Patel from the archives.
RT ShefVaidya "RT nijunction: What does Sh. Ram V Sutar, the man who designed Sardar Patel's 'Statue of Unity' think of PM Modi? Listen in to his views in this promo.

For the full interview, click here: https://t.co/iQ1zQcpAhY pic.twitter.com/461CTuoRNA"

— Dr. Anil Goyal, Urologist & Social Worker (@DrAnilGoel1) October 30, 2018
This news article has been verified through:
https://www.theguardian.com/world/video/2018/oct/31/india-unveils-the-182-metre-statue-of-unity-video
https://www.ndtv.com/video/news/news/pm-unveils-sardar-patel-s-statue-of-unity-world-s-tallest-497751
Click to read more
and watch the video
or