Top 10 most beautiful football stadiums in England
Here is the list of top 10 most beautiful football stadiums in England.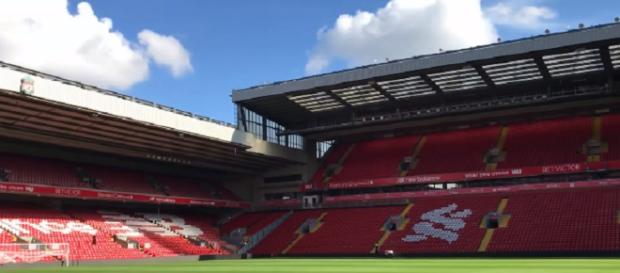 There are a number of Football stadiums in England. It is simply quite difficult to choose the most beautiful stadium in the country. It is being said that England has around 5,300 Football Clubs with the 140-individual league. Before starting our list, here are our honorable mentions, which are not on the list, Etihad Stadium (Manchester City), Stanford Bridge (Chelsea) and Caledonian Stadium (Inverness Caledonian Thistle). Here I have chosen some of the most beautiful and iconic Football stadiums of England.
10. Sincil Bank (Lincoln City)
The beautiful stadium is a home of the home of Lincoln City since 1895. It has an overall capacity of around 10,000.
The sun is shining on Sincil Bank this afternoon! ☀️ #ImpsAsOne pic.twitter.com/P1ypyMaNvv

— Lincoln City FC (@LincolnCity_FC) February 24, 2018
@LincolnCity_FC @michaelhortin great view of Sincil Bank from Bomber Command centre 🔴⚪🔴⚪ pic.twitter.com/TCaWyuY7TP

— Dan Norton (@Dlnorton150879) February 25, 2018
9. The Kirklees Stadium (Huddersfield Town)
One of the most beautiful stadiums in England with banana-style arches.
The Kirklees stadium is the home of football club Huddersfield Town and rugby league side Huddersfield Giants. The stadium has a capacity of around 24,000. Notably, it was awarded the RIBA Building of the Year award for 1995.
🏟️ FT at the Kirklees Stadium - #htafc 1-2 #MCFC

⚽️ Otamendi (OG)
⚽️ Aguero
⚽️ Sterling

🔶 Hogg
🔶 Fernandinho
🔶 Malone
🔶 Silva

🏆 MOTM - Raheem Sterling. pic.twitter.com/RU3jJNoUes

— Sky Sports FF (@SkyFantasyFooty) November 26, 2017
8. Anfield (Liverpool)
The home of the Liverpool FC is one of the most iconic stadiums in world Football. It has a has a seating capacity of 54,074 making it the sixth largest football stadium in England. It is known for its famous Spion Kop. The stadium has been recently redeveloped with additional seating capacity.
● UEFA CHAMPIONS LEAGUE ● 16h45
🏴󠁧󠁢󠁥󠁮󠁧󠁿 Liverpool x Porto 🇵🇹️ (ida: 5x0)

🏟️ Anfield, Liverpool. pic.twitter.com/VnOFYmQ78K

— FutebolNews (@futebolnewsfn) March 6, 2018
Throwback to the last time we played Watford at Anfield. pic.twitter.com/f6qsXetJdf

— Anfield Express (@AnfieldExpress) March 15, 2018
7. Goodison Park (Everton)
The Everton Stadium is one of the oldest football stadiums in the world. Everton fans refer to the stadium as "The Grand Old Lady" and the abridged "Goodison." It has a seating capacity of around 40,000 spectators.It is certainly one of the best places to watch Football in England.
Goodison Park Stadium--Home of Everton FC pic.twitter.com/z6fP0B4WFt

— Kathleen (@oldpicposter) March 3, 2018
6. St James' Park (Newcastle United)
The home of Newcastle United FC has zebra-attired Geordies.
The stadium has a seating capacity of 50,000, which makes it one of the biggest stadiums in England. St James Park is also known for some iconic matches in Premier League history.
Newcastle United are undefeated at St. James' Park in 2018 https://t.co/jywQYk0vJh pic.twitter.com/gDoag3ivKy

— Zesty Newcastle Utd (@zesty_newcastle) March 12, 2018
🎟️ Tickets for #htafc's @premierleague game against @NUFC go on sale to Priority 1 status on Monday 12 March 2018.

The Terriers will face Newcastle United at St. James' Park on Saturday 31 March 2018; 3pm kick-off.

➡️ https://t.co/q2VgEUlOUO (AT) pic.twitter.com/ATqJT21h2r

— HTAFC Ticket Office (@htafctickets) March 8, 2018
5. The City Ground (Nottingham Forest)
The stadium is located in Nottinghamshire, England, on the banks of the River Trent. The city ground has a capacity of around 30000. The view of the stadium is just breathtaking as you can see in the images.
A REMINDER:

Retweet if you have ever watched your team at the City Ground.

Home of Nottingham Forest from 1898 to present 🔴 pic.twitter.com/G2CpTqO01T

— Football Remind (@footballremind) March 11, 2018
⚽️ICYMI ⚽️
Blog link: https://t.co/84tPWQXUry …
Pertaining to: Sat 3.3.18@SkyBetChamp at the City Ground,
Nottingham Forest (1) 2
Joe Lolley 6
Matty Cash 79
Birmingham City (0) 1
Michael Morrison 87
Att 23,296 inc. 1,991 away fans#NFFC #BCFC #KRO pic.twitter.com/a9BzJSyhlr

— Rob (@THE66POW) March 5, 2018
4. The Emirates Stadium (Arsenal)
The home of Arsenal FC is a Football paradise with a with a seating capacity of 59,867. The Emirates Stadium is said to be "beautiful" and "intimidating" by architect Christopher Lee of Populous.
Arsenal start the night with a light show; hope the players can illuminate the Emirates Stadium.#ARSACM pic.twitter.com/NJPky0JEQc

— Hindsight4Sport (@Hindsight4Sport) March 15, 2018
Emirates Stadium pre match this morning. #afc #arsenal pic.twitter.com/P2cyVfLJck

— Stuart MacFarlane (@Stuart_PhotoAFC) March 11, 2018
3. Old Trafford (Manchester United)
Also known as "Theatre of Dreams," the Old Trafford is an iconic stadium with great history. The stadium has a seating capacity of around 80,000 spectators.
Manchester United are on course to be the best-supported team in England for the 25th consecutive season - they are averaging 74,692 for home Premier League games this season, 99% of the capacity at Old Trafford. pic.twitter.com/TkZasor6IB

— Rahul Singh (@forevruntd) March 8, 2018
🏆 Premier League
⚽ Manchester United x Liverpool
📍 Old Trafford
⏰ 09h30 BR / 12h30 PT
📺 ESPN Brasil 🇧🇷 / SPORT TV3 🇵🇹 pic.twitter.com/xKQXTv0fLM

— Mundo da Bola (@InfosFuteboI) March 10, 2018
2. Craven Cottage (Fulham)
It is a home of Fulham FC and located at Bishop's Park on the banks of the River Thames. It is being said that the stadium was originally a royal hunting lodge. According to Shortlist, "its most famous feature is its pavilion – the present-day 'cottage' (the original was destroyed by fire in 1888)."
Wouldn't be a trip to the UK without a visit to my favorite football ground, Craven Cottage. Come on you Fulham. pic.twitter.com/HVCJhPJOJF

— IL Preps Insider (@ILPrepsInsider) March 6, 2018
1. Wembley
The stadium is currently the home of Tottenham. Wembley is one of the largest stadiums in the world. The highlight of this sports avenue is its 134-meter-high (440 ft) Wembley Arch which serves aesthetically as a landmark across London.
The calm before the storm. @ChampionsLeague ⚽️
Under the lights 💡 #UCL pic.twitter.com/kxDL8XAJSz

— Wembley Stadium (@wembleystadium) March 7, 2018
Ready 👊 #TOTHUD pic.twitter.com/MyvojmoqhN

— Wembley Stadium (@wembleystadium) March 3, 2018
Click to read more
and watch the video
or