Hair and Makeup Trends for the 2014-2015 winter season
Long, short, curly, straight, it doesn't matter what type of hair we're talking about, the idea is to mess it up.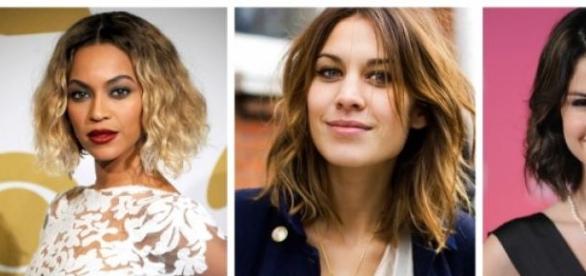 This season it's going to be really easy to follow the
#
Hair
and makeup trends from the footbridge to the streets. Tendencies point to a healthy and kind of messy look. Like "I just woke up" beauty. The off-duty ballerina appearance it's going up, alongside the "I just got out of the beach" look. A romantic beauty merged with the "cool girl" style is on. The sporty look is also welcome.
One word for the hair: messy. Long, short, curly, straight, it doesn't matter what type of hair we're talking about, the idea is to mess it up. Straight hair that you carelessly comb, ponytails and topknots barely tied and with some hair left loose at the front, sweeping fringes combined with a natural hair: these all are already populating the footbridges around the world, and they came to stay. 
Plaits are a must-have this season: side-plaits, tousled, one tied up to another, you're welcome to use your creativity here. The wet impression is another trend to follow; it creates a fresh, clean and healthy impression. Cowlicks are also on, but needless to say: get them a little tousled. The undone look emphasizes the woman's natural beauty, which makes it more interesting.
Matching up the hair, the makeup has to be close to a natural look. Some color is accepted, provided we're talking about happy colors in the eye, but not too much. From the ballerina look come the pink cheeks, lengthy lashes and illumination with shades of lilac and nude. To define the eyes, the grey line is recommended, to avoid the black heavy look. 
If you can't stand not to prepare a good and elaborated makeup, try to invest on the foundation. A perfectly uniform skin gives you what you need to build the healthy look: give your cheeks and forehead some color, define slightly your eyes and eyebrows, illuminate your face, put on a beautiful and clear lipstick. Remember: contouring and illuminating are used to highlight the face's natural light. For going out, abuse the romantic tendencies, but once again, without carrying too much. You're allowed to use a blue, green, pink or even a yellow shadow, to create a happier look, or even to get your makeup some attention. But do it carefully!
Doing the minimal makeup and getting your hair a little natural, your look is going to match perfectly what the stylists all over the world are talking about.
#
Fashion