JJ Abrams and Stephen King working on a new TV series together
The 'Star Wars' director and 'The Shining' author's new show will be a 'Twilight Zone'-style horror anthology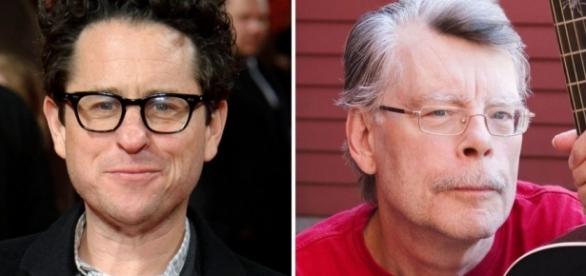 JJ Abrams has proven himself to be an ardent fan of Stephen King's work in the past, given the three years he spent (2007-2009) trying to get an adaptation of King's "The Dark Tower" series off the ground (the adaptation is finally happening this year with Idris Elba and Matthew McConaughey starring) and the fact that King's #Books were the the subject of The Others' book club meeting on "Lost." Add to that Abrams' work on the King adaptation "11.22.63" starring James Franco as a time traveller sent to stop the assassination of John F. Kennedy, and now, their latest collaboration, an anthology series based on King's writing entitled "Castle Rock."
The title has significant relevance to King's work
In addition to being the title of the new series, Castle Rock is the fictional town in which most of King's stories are set. Rob Reiner, the director who adapted King's "Misery" and "The Body" ("Stand By Me" for cinemagoers) for the big screen, even named his production company Castle Rock Entertainment. You may recognise their logo from the end credits of "Seinfeld."
The typically mysterious Abrams has released a teaser video that's basically a journey through King's works as adapted for the screen, showing that this series looks to be changing the game from tried and true King adaptations of yesteryear. Very little has actually been confirmed of the series, although it will feature a handful of stories based on King's work and they will all be set in the town of Castle Rock, hence the title of the show.
No UK channel confirmed yet
Abrams has produced shows for all kinds of networks, from HBO with "Westworld" to ABC with "Lost" to Showtime with the recent, ill-fated "Roadies." Streaming service Hulu is the one where King also has ties, as it was the home of the Abrams-produced miniseries "11.22.63," so it will be where "Castle Rock" hangs its hat. Its UK home is yet to be confirmed as it is still in the early development stages and a channel won't pick it up until it's at least near completion, possibly waiting for its US release to see what the reception is like and which demographics respond to it the strongest. Fox UK is the most likely since it aired "11.22.63" in the UK, but since Channel 4 aired a similar spooky anthology series in "Black Mirror" (which King happens to be a huge fan of) and it was subsequently picked up by Netflix, so they're a couple of other candidates for who could take on the series.
No release date has yet been confirmed for "Castle Rock." "The Dark Tower" will be released in cinemas on 28 July. Meanwhile, King's latest novel "Sleeping Beauties," co-written with his son Owen King, which answers the burning question "What would happen if all the women abandoned the world?" will be published in October. Abrams, as usual, has a boatload of upcoming films, including the latest "Star Wars" film "The Last Jedi," and "God Particle," a new instalment in the "Cloverfield" universe. #Television #Celebrities