'Top Gear' adds Eddie Jordan and Sabine Schmitz to new line-up
Additional presenters enlisted as the BBC2 programme goes head to head with Jeremy Clarkson's new motoring show.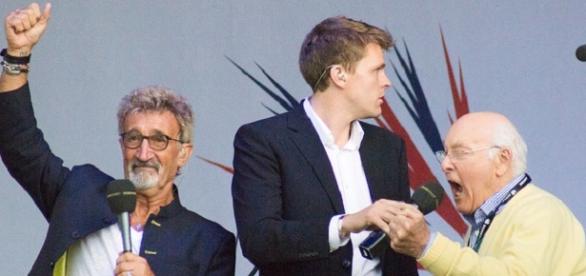 The BBC's revamping of their top #Motoring programme Top Gear seems to have concluded its new signings, with the addition of Eddie Jordan, Sabine Schmitz, Chris Harris and Rory Reid to the team. They will join Chris Evans and former Friends' star Matt LeBlanc in an all new line-up when the show is scheduled to return to our TV screens this May.
Motor racing additions
Jordan and Schmitz add some motor racing nous to the presenting team: former motorsport team boss Jordan has been the erstwhile pundit on the BBC's F1 coverage in recent years; Schmitz is a Nurburgring legend and TV personality, the 46-year-old German having been a professional motor racing driver for both BMW and Porsche during her career.
Harris and Reid introduced to show
The interesting combination of styles and approaches that will now be on view on the remodelled show includes two extra co-presenters: motoring journalist Harris and a slightly unexpected addition in the form of journalist Reid.
The latter may not be as well-known as the rest but has an impressive enough CV all the same. Having worked for Recombu.com, Reid's impressive audition tape ensured that he beat off the challenge of thousands of others to land the plum role.      
Evans sides with LeBlanc
American actor LeBlanc had already been confirmed as joining Evans on the programme. Although many fans of the show have questioned the wisdom of his introduction into the line-up, Evans has attempted to assuage any concerns that the viewers may have by describing him as a "lifelong fellow petrolhead."
His laid back style has already been seen twice on the show previously as a guest, including posting the record for the quickest lap in the part of the programme quaintly labelled the 'star in a reasonably priced car' segment. It is clearly hoped that the internationally recognised actor will appeal to viewers.      
Stern competition from Clarkson's show
Despite the apparent improvement in the general outlook for the new Top Gear show – following months of speculation and questioning of whether Evans was right for the job – there is however a potential fly in the ointment in the form of competition from elsewhere.
Viewers loyal to former presenters #Jeremy Clarkson, Richard Hammond and James May are sure to be excited by their rival product expected to be aired on Amazon.Prime. The well-liked trio are to launch their own motoring show sometime in the not too distant future, after leaving Top Gear last year in the aftermath from Clarkson's well-publicised altercation with his producer.
Money-spinner for BBC
The BBC will be keen for the revamped Top Gear brand to continue its former success. The Beeb's commercial arm, BBC Worldwide estimates that the show generates a combined income of around £50 million per year in terms of TV sales from abroad, books, merchandise, DVDs and the like. So it is not hard to see why they have invested so much in ensuring that they have the right people now in place or at least so they hope.       #Television