Has India Gone From The Frying Pan Into The Fire?
A new government in the Centre -- but has anything really changed for Indians?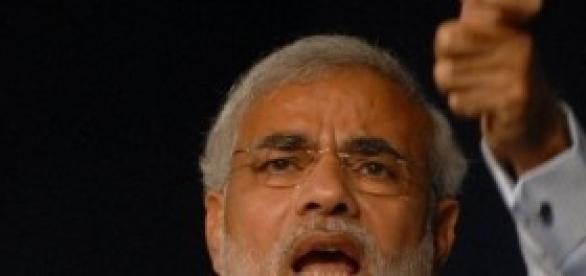 With great enthusiasm and unprecedented numbers India elected BJP (nay, Narendra Modi) to form a new government on May 16th, 2014. Modi promised change, progress and development. The dearest hope of a totally beaten nation was an end to corruption and inflation. But has anything really changed? Let's take a look:
Criminals in power
National Election Watch (NEW) and Association for Democratic Reforms (ADR) are NGOs that keep tabs on elections and politicians. They make the effort to actually go through candidate affidavits, analyse them and give valuable information about those who have been invested with the duty of governing the country. As per a report by these agencies, 186 of the elected candidates have disclosed criminal charges against them in their affidavits. The charges include murder and attempt to murder, crimes against women, kidnapping and abduction etc.
Of 281 winners from BJP 98 have criminal charges against them. This makes it about 35%. BJP ally Shiv Sena has got 18 seats. Of 18 elected members, 15 have criminal charges against them. This is about 83%. While Modi himself is free from the blemish of corruption he is surrounded by less-than-desirable people. (For the record, Modi was accused of conducting a pogrom in 2002 during the Gujarat riots but multiple government investigations conducted by different teams have found him not guilty.)
Violence against Women
Since December 2012 when the gruesome ordeal of Jyoti (dubbed Nirbhaya) was reported in the media, the country went up in a high octane demand for safety of women. Since then, reports of rapes and other violent crimes against women have increased - the kangaroo court dictated gang rape in West Bengal and the dual gang rape and hanging in UP are some of the more violent cases. There is no news forthcoming on the arrests and punishment of the rapists even while reports of rapes, each more horrifying than the other are reported almost every day.

In addition there have been two anti-women ruling in the courts in the past couple of weeks. The first was a Delhi Court ruling in May (shortly before the election results were announced) that intercourse between a married couple even if forcible is not rape. This is shocking and a serious blow against women. This is a ruling in the High Court of one city - but in law each ruling becomes a precedent and this is the precedent that others will follow. Violence against women has got a huge fillip by this ruling.

Also in May and also in a Delhi Court, Justice Kailash Gambhir adjudged that the rape law was often misused by women who first had consensual sex and then filed rape cases out of "vengeance and vendetta" to blackmail the men or force the men to marry them. This is another serious allegation casting aspersions on the victim and protecting the criminal. There may be some cases - let us assume even a very high 20% cases where there may be blackmail; but for 20% this judge has weakened the security provided to 80% of the victims. Also if a man lures a woman into his bed by promising marriage and then reneges, isn't that a crime?

Accepted that these judgements came either a little before or soon after the new government took charge, but since seating themselves in the drivers' seats, no one from Modi Sarkar is addressing this acute and ballooning issue of violence against woman. Can the Minister for Women and Child Development, Maneka Gandhi please get as proactive in this role as she was when she was the Minister for Environment?
Prices
Far from inflation being curbed or prices being contained, the first month of the Modi government has brought an increase in prices.

Much reported and debated was the huge hike in railway fares. Even as rationalists and intellectuals agreed that the price hike was valid and even necessary for Indian Railways to stop being a loss-making drain on the country's coffers, the government rolled back almost 70% of the declared hike for Mumbai locals and also rationalised the hike on other outstation lines. The quick rollback is what makes the declared hike suspect. It has always been the case - first a hike is announced, the people protest and then the hike is rolled back to become what the government wanted in the first place. So the government gets what they wanted and people are relieved that the upward revision is not as high and maybe even think that the government listens to them. So what has really changed in this tactic?

Plus Modi Sarkar didn't wait for the Railway Budget to announce the hike. This could well mean that the Railway Budget may have an additional upward revision neatly written into it - which will still not be as high as the outrageous hike previously announced.

Besides the railway hike is another price rise that has insidiously crept into the market in Maharashtra. While a debate about replacing Local Body Tax (LBT) with a surcharge on Value Added Tax (VAT) is still underway prices of many commodities have already increased - one case to the point: supari (raw betel nut) costs Rs. 140/- more per kilo. (Maharashtra is still Congress ruled, but direction from the Centre or common laws can surely help here.)
Reduced Interest Rates
This is yet to be confirmed, but this month senior citizens who have invested in the Post Office Senior Citizen Savings Scheme (SCSS) have received less interest than the previous months. The very name of the scheme proclaims it is for Senior Citizens, i.e. retired people who h are probably living on the interest that they are earning. If indeed the interest rate for this scheme has been revised downward, it is a very, very poor commentary on the government's commitment to look after all people in the country (A report published by Central Statistics Office Ministry of Statistics & Programme Implementation, Government of India in 2011 stated that the population of elderly in India was 7.4% in 2001. If the percentage is converted to numbers it is a staggering number of people.).

While citizens are already impacted and affected by these facts, the promised achche din do not seem to be dawning in a hurry. What lies in store for the country in the coming five years from a government that they had euphorically voted into power giving it a clear majority (a first in three decades)?